Who watches the watchmen?
MISSION STATEMENT: Our mission is to provide the public a window into the local and regional political process by video taping various public meetings and officials during the course of their public duty. GovernmentOversite.com firmly believes this process affords the general public an easier and more convenient access to the proceedings of their local government. It is our intent to ensure all citizens have the ability to monitor government activities. We wish to facilitate the exercising of your inalienable first amendment rights that are protected by the US and NH Constitutions. We will earnestly strive to provide a mechanism for all concerned citizens, newspapers, television, and radio to assert themselves in a government by the people, for the people, and of the people.
Latest Meetings
Ossipee Selectmen Meeting | March 20, 2017
Part 1 of 1
Meeting Notes
Ossipee NH Selectmen meeting from 3/20/17. The Selectmen: Robert C. Freeman, Richard H. Morgan and Sam Martin convene there meetings at Ossipee Town Hall, 55 Main Street, Center Ossipee, and this hearing began at 4:15 pm. Town Administrator: Ellen White. ___ [Click ...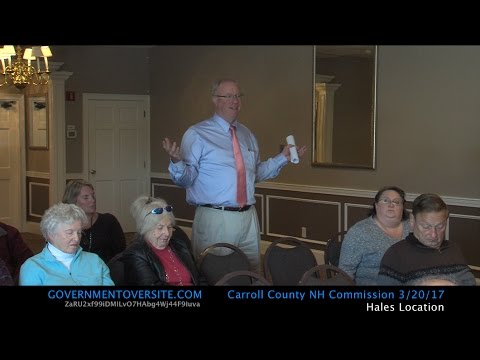 Carroll County Commissioners Meeting
March 20, 2017
Carroll County NH Commissioners Hales Location meeting from 3/20/17. Commissioners: Amanda Bevard, David L. Babson, and Mark Hounsell, collectively administer the business of the ...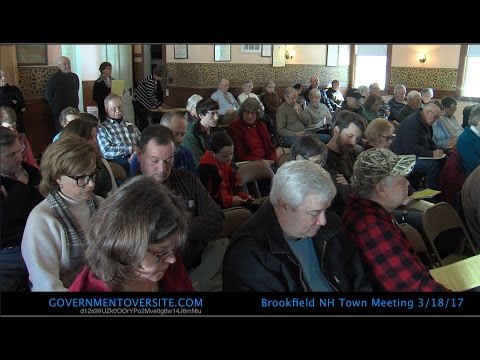 Brookfield Selectmen Meeting
March 18, 2017
This is the Town Meeting of Brookfield New Hampshire. The 223 th town meeting was held on March 18, 2017. The (town meeting) can ...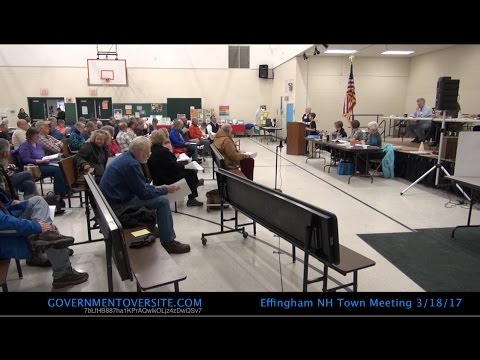 Effingham Selectmen Meeting
March 18, 2017
Welcome to the Effingham NH Town Meeting from 3/18/17. [Part 1 and 2] The Town Convened their meeting at the Effingham Elementary School, 6 ...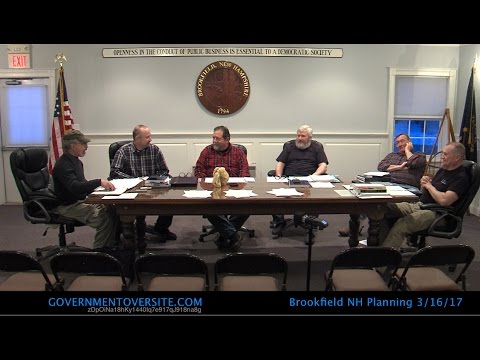 Brookfield Planning Meeting
March 16, 2017
Brookfield New Hampshire Planning Board meeting from 3/16/17. The board meets at the Town Offices, 267 Wentworth Rd and this meeting began at 6:30 ...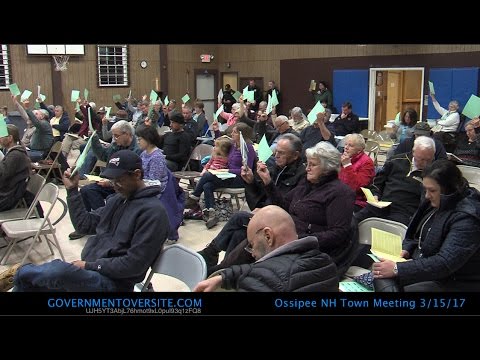 Ossipee Selectmen Meeting
March 15, 2017
Welcome to the Ossipee Town Meeting from 3/15/17. The Meeting convened at 55 Main Street, was held in the Bub Avery Memorial Gymnasium and ...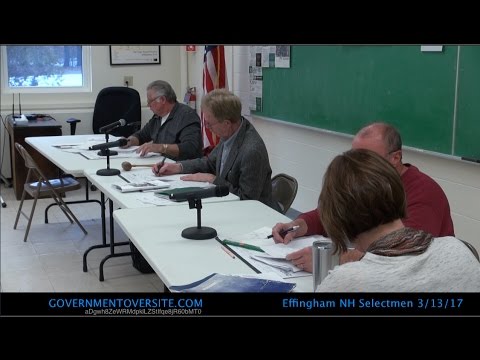 Effingham Selectmen Meeting
March 13, 2017
Effingham NH Selectmen meeting 3/13/17. The Selectmen: Leonard Espie, Lawrence Edwards and Henry Spencer convene there meetings at the Effingham Municipal Offices, 68 School ...